Twilights
Western Visayas: Best in Tourism Booth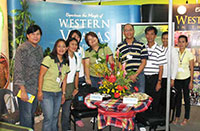 DOT Regional Director (4th from right)
proudly beams with the region's tourism
people.
Western Visayas (Region 6) now carries the pride as it won the most coveted award as being THE MOST IMPRESSIVE BOOTH in the recent Visayas-Mindanao International Travel and Lifestyle Show in Cebu City.
Negros Occidental Provincial Tourism Officer Jennylind Cordero headed the provincial group and joined forces with the tourism officers from Capiz, Antique, Aklan, Iloilo, Guimaras as Department of Tourism Regional Director Edwin Trompeta led the region to a victorious participation in the exhibit.
Tourism officers of all the provinces in the region attended and supported the activity which was also attended by DOT Undersecretary for Special Concerns Mr. Phineas Alburo.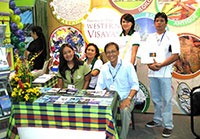 Western Visayas tourism staff join hands
to have an impressive booth.
Silay City Mayor Jose Montelibano and wife Marissa flew in to join and inspire the provincial participation along with tourism representatives of Sipalay, Silay and Sagay cities of Negros Occidental.
Congratulations to Director Trompeta and all the provincial tourism officers of region 6!