Charie Ginete-Ilon: All woman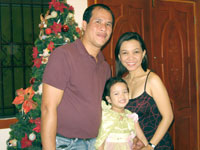 With Rowan and Ella during Christmas
vacation at home in Bacolod.
A woman is God's greatest gift to man and to nature.
Such is the description of Charie Ginete-Ilon, ABS-CBN Iloilo manager when I asked her about what a woman is, in her opinion.
Charie is probably one of the most admired young women today. She exudes simplicity and grace. Yet, behind her charming smile and soft features is a strength that is very evident.
Get to know more about Charie in this interview.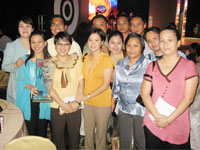 During the Awarding Ceremony of WOW.
Atty. Abigail Querubin-Aquino, RNG
Cluster Head Visayas, Charie Ginete-Ilon
and ABS-CBN Iloilo staff.
Kathy M. Villalon (KMV): What would you consider as your greatest achievement in your career?
Charie Ginete-Ilon (CGI): It's being part of ABS-CBN and its growth. With the help of people that I work with, ABS-CBN Iloilo has reached this level. Modesty aside, it's the undisputed number one in Iloilo because it has earned the trust and confidence of Ilonggos that it only gives the best quality of shows, station initiated projects and delivery of public service.
Being with the network for 12 years, overcoming challenges and reaching our goals year in, year out are part of my achievements. In such time, I could say that ABS-CBN's vision, "to be in the service of the Filipino wherever he may be" is not just a lip service to me but something that has guided me to the right direction and has become my way of life.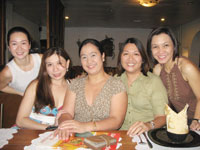 With college friends Lynn Michelle Ong,
Mellany Yap-Arceo, Cristina Hulguin,
Gemma Agarrado-Guaderrama.
KMV: Any biggest award you can be proud of?
CGI: The WOW (Walk on Water) award for ABS-CBN Iloilo in 2007. It's the first Special Recognition Program of the network given to those who have worked the extra mile. And ABS-CBN Iloilo won the WOW for Best Team in the Regional Network Group. But ABS-CBN Iloilo being named as Best Provincial Tv Station by the KBP Golden Dove Awards in year 2005 is one my memorable awards too.
KMV: How are you as a manager?
CGI: It's best if my people would be the ones to assess me. But, I believe I have a principle-centered leadership and I focus on our vision. I instill the company values to the staff. I'd like to think that I am approachable. One Sales Consultant even described me as 'daw barkada', a team player. I walk the talk. I even get involved in how my staff looks (laughs). Actually, I now stress "wellness" among the staff. We work in television, so I have to make sure that my staff are in good health and happy with their lives.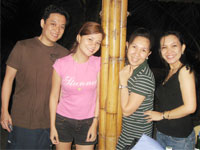 With friends Jerry Mapa, Zara Escandelor
-Mapa, Ritchel San Luis-Reyes.
KMV: Doesn't that border on being a control freak?
CGI: No. I just want to be assured of the staff's total well being. I always tell them I'm happy when they're happy, with their personal and professional life. In that way, they deliver better. I always ask them not to settle for mediocrity but to always pursue excellence.
KMV: How about as a wife?
CGI: I am not perfect. But I am 'malambing', loving and supportive. I make sure I meet his needs --- emotional, sexual (laughs). I try to make my husband happy. He said he's happy with me. I try to keep the romance in our relationship. During special occasions, I remind him of what I want and he tries to make me happy. When he sees me on TV, sometimes he would send me a message, saying "Kita ta ka sa TV. Pwede kapangaluyag liwat?'(laughs). We've been married 8 years.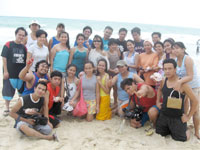 Summer outing with ABS-CBN Staff in
Boracay.
KMV: How about as a mother?
CGI: 'Todo bigay'. I'm a hands-on mom. My daughter and I are very close. 'Grabe ang bond. Parang Mighty Bond' (laughs). We do everything together --- eating, playing, bathing. I bring her to school. I instill discipline. I teach her the right values para 'winner man sia' (laughs). Like any other mother, I only want what's best for my daughter. Jobert (Atty. Penaflorida of Sikat Ka Iloilo) even teases me for being a stage mother.
KMV: Speaking of stage mother, would you like her to be on TV someday?
CGI: Why not? TV is a good medium to develop one's personality. Shy people will shine if given a chance. TV magnifies the good but it can be cruel. But it's still good. It helps you send your message across.
KMV: What's cruel about TV?
CGI: It magnifies your imperfections. One viewer told me I have a big nose, but I didn't mind.
KMV: You said that a woman is God's greatest gift to man and nature. Why?
CGI: A woman knows how to love. She is selfless and puts others first before herself. She knows how to laugh and cry. She doesn't hold back in giving. When she gives, she gives unconditionally.
Charie is married to Rowan Ilon, an operations engineer of Transmittion Specialists, Inc. (TSI) based in Guimaras. Their daughter is Raphaella Faith "Ella", 3 years old. Charie is adventurous and she loves sports. She used to swim and play badminton. Now, taebo is her way of keeping fit.