PINK PEPPER
Guisi: Your passport to adventure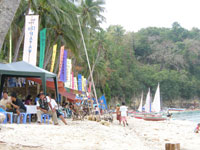 The white beach that attracts visitors.
So many good feedbacks had been heard about Guisi, Nueva Valencia, Guimaras. Thus, Pink Pepper decided to see if the exciting stories about this paradise, are indeed true.
Well, after a long time of just imagining how the place would be, I finally visited it last February on the sidelines of the Guisi Sibiran Festival.
Guisi is one of the four sitios of Barangay Dolores, Nueva Valencia. It is located in the southwestern coast of Guimaras Island. It's historical landmark is the famous century old Luzaran Point Light Station built in 1894 by the Spanish Government.
With 87 households, it has a population of about 450, and 98 percent of which is Roman Catholic. Traditional fishing is one of the primary means of livelihood.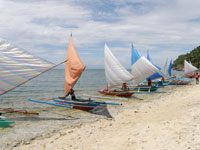 The shoreline.
It is blessed with several tourist spots. They are the Orang Spring; and the Tarug and the Panaloron Mini-falls where, all year round, naturally cold fresh water continuously flows from the towering limestone cliff along the shoreline.
I was awed by the white sand beach at the foot of a 200-feet vertical cliff of the Panaloron. Then, there's the white sand of Guisi Beach, surrounded by coconut trees.
Don't forget the La Patsira with its natural stone wharf, where small and medium size ships can easily dock. The hundred feet high Hinalaran Cliffs resemble like open doors leading to a river-like inland sea water of Basyaw Cove.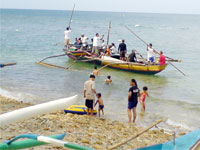 Arriving to this hidden paradise.
Witness the Lighthouse of 1894 built on top of a promontory land mass extending seaward called Guisi Point where the beautiful sunset view over Panay Gulf can be seen; and lastly, experience the Guisinians' hospitality at the Guisi community Based Heritage Tourism Cottages of the Barangay Dolores Tourism Council Inc.
For only P999 per person, you can already experience these places. The rate is applicable to a minimum of five persons per tour.
For details, please contact 09295694086 or visit the Guimaras Provincial Tourism office..