TOREADOR
Lent-Friendly Menu at Blue Jay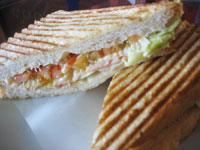 California Kani Sandwich.
This is the time of the year when non-meat dishes take center stage in every restaurant's menu. During the Lenten Season, expect all the fish entrees, tuna sandwiches, and seafood dishes to bask in the limelight while the ubiquitous steak and meat fares humbly retreat to the backstage.
This being the season of Lent, we can probably make a few sacrifices on our food choices like shunning meat especially on Fridays. And if we think our choices are limited, let's think again. Blue Jay has lined up Lent-friendly dishes, soups, and sandwiches for our dining satisfaction.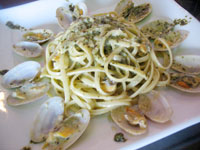 Vongole.
At Blue Jay, the Spanish Sardines with Feta Cheese Sandwich and Seafood Marinara (with shrimps, squid, clams, and tomato concasse) are the two main attractions, while other seafood pasta dishes and sandwiches like California Kani (with Japanese Kani sticks, shredded lettuce, and mango dressing) vie for a place in the Lenten menu marquee. Here are other must-try Lenten specials at Blue Jay:
Vongole. A classic pasta dish of clams, white wine, and aglio olio (garlic and oil).
Prawn and Mushroom Pasta. Sauteed prawns and mushrooms in light olive oil and garlic sauce.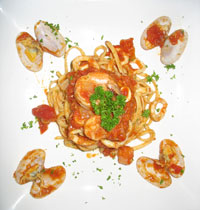 Seafood Marinara.
Chunky Apple and Tuna Salad Sandwich. Tuna, apple, and celery on Dijon-mayo dressing.
Seafood Clubhouse Deluxe. Kani Salad, tuna, apple, egg, with lettuce and tomato.
Clam Chowder. A rich and spicy soup with clams, squid, onions and potatoes.
With these choices, meatless Fridays have never been this inspiring and gastronomically exciting. For a taste of any of the Lenten dishes, visit Blue Jay Coffee and Deli at Gen. Luna St. and Blue Jay Coffee at Smallville, Diversion Road.