Green Mango: A haven of good fast food
Grilled Chicken.
The News Today got invited to try out Green Mango, a newly opened fast food restaurant in Valeria Street (near Atrium) the other day and it was quite a surprising and enjoyable gastronomic experience for us.
Food Consultant Miner del Mundo and owner Johnny Que's assistant Arvi Sumayo joined me, Ms Marichel Magalona and Joanne Combong-Pijuan to enjoy Green Mango's homecooked-style favorites.
We were treated with servings of Breaded Fried Chicken, Barbecue Chicken, Pork Chops, Pancit Canton, Pancit Palabok, Pork Sinigang and Fiesta Halo-Halo.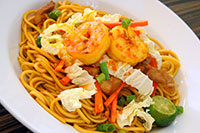 Pancit Canton.
I called the experience as surprising because we ate more than what we were accustomed to. I wasn't the only who noticed it when I started asking my boss Ms Chel to start passing me more rice and the other food on the table.
"This is a cross between fastfood dining and your mom's cooking. The food tastes good. A lot of bang for your luck. I dunno, Kat, I really ate more than my usual," said Joanne.
Ms. Chel found the food affordable and they have big servings. "And the taste is authentic," she added.
Here's a list of what you can enjoy at Green Mango. I tell you, it's a perfect place to be when you're longing for homecooked food in a modern and clean restaurant in the city.
Must-Tries At Green Mango
Value Breakfast Meals
Garlic Beef Tapa
Pork Tocino
Smoked Longganisa
Sautéed Corned Beef

Pinoy Big Breakfast
Garlic Beef Tapa & Smoked Longganisa
Garlic Rice, Fried Egg
Brewed Coffee or Hot Chocolate or
Pork Tocino & Sautéed Corned Beef
Garlic Rice, Fried Egg
Brewed Coffee or Hot Chocolate

Rice n' Sides
Fish Escabeche
Pork Adobo
Bistek Tagalog
Beef Caldereta
Chicken Wings BBQ

Green Mango Grill
Chicken Barbecue
Pork Barbecue
Pork Chop
(With unlimited rice)

Perfectly Fried
Crispy Fried Chicken
Fried Pork Chop
Lechon Kawali
(With unlimited rice)

Sinigang Bar: Pork or Beef

Merienda
Green Mango Burger
Green Mango Spaghetti
Pancit Palabok
Canton Huisado
Bam-i
Garlic Beef Tapa
Pork Tocino
Smoked Longganisa
Sautéed Corned Beef

Dessert Fiesta
Mangga't Pandan
Fiesta Halo-halo
Leche Flan
Sago't Gulaman
Saging con Hielo
Choc Nut Sans Rival