Dream Wedding: A Union Blessed By God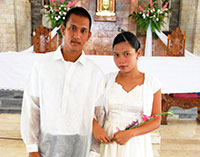 The Infantes.
As several couples will have their union blessed by the Lord through the sacrament of matrimony today, three couples who took part in the Dream Wedding 2008 share about their life and offer advice to this year's couples.
Alberto Sante, 30, a laborer and Joan Ty, 29, a housekeeper, participated in My Dream Wedding 2008 in July 3, 2008. "It was a happy and memorable time where we spent a nice dinner together. It's indeed different if your marriage was blessed by the Lord (church wedding). Although our life has its ups and downs, we managed to keep our relationship strong. A marriage with the Lord's blessings can make you survive. We already have a baby," the couple said. "Put God in the center of your life," is their advice to the Dream Wedding 2009 couples.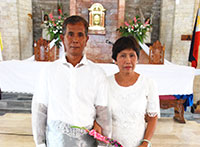 The Osorios.
Emil Infante, 24, driver and Dutches Andrea Infante, housewife spent their first wedding anniversary by going shopping and spending overnight at the beach. "Despite our problems and the economic difficulties, we are okay. The Dream Wedding is a chance for you to get married in church for free. We thank Councilor Jam Baronda for this," the couple said.
Hector Osorio, 58, fish vendor, and Marietta Osorio, 56, housewife, decided to have their marriage blessed by God when they wed in July 3, 2008, 36 after being together. They have children and grandchildren already. "With the blessings of God, they will live with love. Our age was not a hindrance to our getting married in church. That's why we are excited with our child getting wed this year," they said.
My Dream Wedding Year 5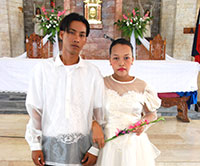 The Santes.
For the past four years, at least 40 couples were given the opportunity to have a matrimonial vow as husband and wife before God the Father and to receive the Blessed Sacrament in order to live a family formed by love and faith
Sharing the same vision, Hon. Julienne Baronda offers her open-handed support for the success of this activity. This is the fifth year that Baronda celebrated her birthday by initiating the said activity. And just like last year, couples did not have to worry about the preparations because the organizer took care of the wedding rings, cakes and food, among others.
After the wedding, there will be a convoy of 50 trisikads that will bring these couples from San Jose Parish Church to the reception area, Robinsons Place Iloilo.
The people behind "My Dream Wedding" hope that this year's activity will equal if not surpass the success of the previous year.