At the Helm of CPU: Dr. Ted Robles leads his Alma Mater forward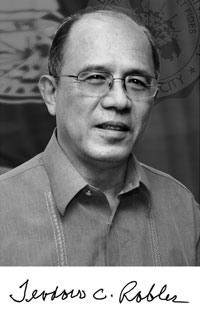 Dr Ted Robles.
Today is the investiture of Teodoro Canillas Robles, Ph.D., the fourth Filipino president of the Central Philippine University.
Ever since he had been elected as CPU's President, all eyes were on the said institution and the man tasked to move it forward to more excellent heights.
A graduate of Electrical Engineering of the said school, took up his MS and doctorate in the same course in Montana University. He is a senior member of the Institute of Electrical and Electronics Engineers and a member of the American Society for Engineering Education.
He was also involved in the planning, preparation and implementation of the 5th CPU global reunion, in the management of Filipino American Association of Wisconsin and Terre Haute Montessori School, has chaired in several groups and endeavors.
He has undertaken many research projects for the US government, private industry and academic institutions. He has authored several publications in his area of specialization. He has supported CPU in many ways, like donation of books, financial support for endowment and professional chairs and has furnished one unit at Roselund. He also established the Faculty Training Program at Milwaukee School of Engineering wherein at least 12 CPU faculty finished.
It is through his involvements that he had seen great many examples of leadership and he believes that he has a high understanding of the institution's goals. He wants to energize the CPU faculty and staff, motivate enthusiasm and the desire for learning in order for the institution to live up to its reputation. He is a leader by example. Thus, he promises that whatever decisions he makes for CPU is something that is good for the university, not just a few. "I can provide the leadership needed to face the challenges head on."
"CPU will continue to provide exemplary Christian education. Our graduates will be productive, with Christian faith that is strong, and who will help the country rise out from the list of being one of the most corrupt countries of the world," he said.
To make this vision possible, he will ensure that the university will offer facilities that are conducive to learning, to strive for excellence in teaching by developing goals with the faculty and staff, see what's working in the past and get rid of those that don't work.
Every person placed in a position sometimes faces questions from other individuals who are concerned about the welfare of the entity that he or she is going to head. Dr. Robles is not spared from that, with his so-called lack of administrative experience being attacked. "The missionaries who started CPU did not have the either. But, look at what they did with CPU. They were honest. You cannot just base it on experience but on the potential of being a good administrator," he said. Dr. Robles believes that his financial background will also be of great help in his task as administrator.
Dr. Robles hails from Leon, Iloilo. He is married to Angeles Antonio Robles, an alumna of CPU. They have a son, Theodore Robles, PhD, an assistant professor in the University of California at Los Angeles (UCLA).
When he is not busy running the university, he walks around the campus, most especially in the mornings. He wants to train in tennis and would like to travel and be more active in church. "We change as we go along. Hopefully, we will be in a lot of activities. But for now, work first," he said.