Capiz Hosts Wvraa 2009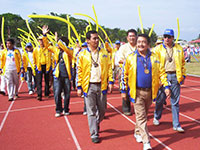 Gov Victor Tanco, Sr (center) with Board
Members Esteban Evan Contreras, Fritz
Cruz Am, Ricky Martin and the rest of the
provincial officials.
For this year's Western Visayas Regional Athletic Association (WVRAA) Meet, Capiz province was the host of this big sports event on March 15 - 21.
During the WRAA opening, no less than Senator Mar Roxas was the guest of honor. ABS-CBN's Korina Sanchez accompanied him. Also present were Capiz governor Victor Tanco, Sr., the provincial board members, 1st District of Capiz representative Antonio del Rosario, Roxas City mayor Vicente Bermejo as well as several municipal mayors from the towns of Capiz.
Governors from other Western Visayas provinces also attended the opening to give support to their athletic delegates. Present were Gov. Niel Tupaz of Iloilo, Gov. Sally Perez of Antique, Gov. Carlito Marquez of Aklan, Gov. Felipe Hilan Nava of Guimaras and Vice Gov. Emilio Dino Yulo III of Negros.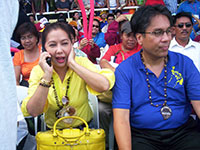 Senator Mar Roxas with Korina Sanchez.
The Villareal Stadium of Capiz has the best sports facilities boasting of rubberized track oval, well-maintained courts, swimming pool of Olympics standards, and airconditioned gymnasium with wooden parquet basketball court. The Stadium has been the venue for many national sports events and it is now considered as the most superior sports venue in the whole of Western Visayas.
The hosting of the 2009 WVRAA Meet is another pride and feather in the cap of the Province of Capiz.