Meshi: The Promenade's Japanese dinner buffet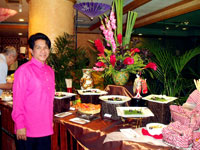 Rey Ponsaran, F&B Consultant,
presents the buffet.
Lovers of Japanese food will be delighted to know that a new Japanese dinner buffet experience will be theirs at The Promenade every Wednesday night.
The buffet is called "Meshi," a Japanese word for boiled rice or any rice meal.
Delight at the varied combinations of Japanese staple food like rice or noodles, soup and some dishes made from fish, meat, vegetable, tofu and more, which are mixed with authentic ingredients like dashi, miso, soy sauce, to name a few.
The buffet is at P385 per person.
Enjoy this buffet spread at the cozy confines of The Promenade, located at the Days Hotel. For reservations, call 3368801.