It must be magic: Meet Prof. James Narvaez, an expert in illusion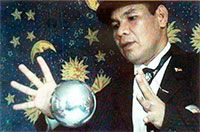 Prof James Narvaez.
Hervacio Bassig, a magician trained his grandson well in the art of illusion since the kid was nine years old. His years of training paid off as that curious child emerged to become one of the country's sought after magicians.
Prof. James Narvaez, who hails from Manila, has made magic in Iloilo more exciting with his presence. A gathering is always a lively one with him around when he and his friends from the Philippine Brotherhood of Magicians enthrall us with their craft.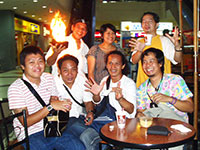 The writer with the Philippine
Brotherhood of Magicians.
From his first trick of a hanky turning into a white dove or rope tricks when he was just a kid, his tricks had become more elaborate. Like a fire coming out from his wallet when I asked for his calling card.
Get to know more about him in this interview.
Kathy M.Villalon (KMV): What are the advantages of being a magician?
Prof. James Narvaez (PJM): You'll meet many people and they will be impressed with what you can do. I've met David Copperfield and Jonathan Pendragon. Copperfield performed in Manila one time and all magicians were there to witness his tricks. He's the best.
KMV: Were you able to interact with him?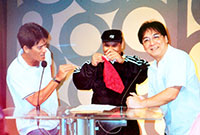 With Vic and Joey.

PJM: Yes. I showed him my tricks. He taught me better ways to do a trick. Apart from him, I became talent coordinator for magic for Eat Bulaga. One of them is Julia Clarete who had to do a magic trick in Eat Bulaga. I also taught Ian Veneracion some tricks for his role as a magician in "Once Upon a Time." Some of the famous people I interacted with were Vic and Joey, Antoinette Taus, Senator Loren Legarda, Gilbert Perez, Judy Ann Santos, and Criselda Volks. I taught Volks about levitation in Eat Bulaga. She was scared at first when I raised her.
KMV: What other perks do you enjoy as a magician?
PJM: I get to travel. I was a stage magician for a cruise ship for six years. I was a magician in Dubai for 10 years under my own company called Partyline. I've also traveled to Kuwait and Jeddah because of my craft.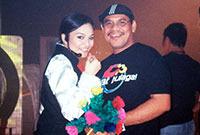 He trains celebrities to do magic tricks.
KMV: What are your challenges?
PJM: I have to practice for six hours daily. I've been a full time magician for 31 years now, and I have to practice to better my craft. This is a business of easy money --- it comes easily but also got spent easily.
KMV: Where do you learn new tricks?
PJM: From the Internet in magic sites like Toramagic.
KMV: Why did you make Iloilo your homebase?
PJM: My wife Girlie is from Iloilo. We met when we were in Dubai. I've been here for a year already. We have two kids.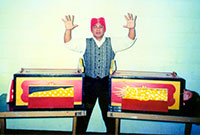 Split in two.
KMV: Do you teach your kids and your wife about magic?
PJM: Yes. Jasmine Pearl is five years old and I've been teaching her magic. My other daughter, Jessica Lindsay is one. Girlie assists me as a clown. I taught her magic, too. She used to be a nurse but now, she's a full time clown and magician.
KMV: Wow, all in the family. What would you consider as your favorite trick?
PJM: All of it.
KMV: What about the most dangerous?
PJM: Escape tricks. If the timing is wrong, the person inside can suffocate.
KMV: What exactly is the secret to magic?
PJM: The delivery is through misdirection of the audience. Magic is a practice of illusion.