PINK PEPPER
A talk on volunteerism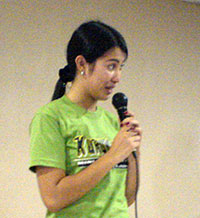 Natalie Grace Roberts.
In my four years of working for the media, I was exposed to writing about medical missions and other community work, which I personally attended. From such, I've witnessed the spirit of volunteerism. People from different walks of life commit themselves to rendering services without compensation.
Volunteerism is very important here because there is a great need for help to make life better. Thus, a talk on volunteerism was promoted before students recently.
The Phi Beta Epsilon Fraternity and Centralians Antique sponsored the said talk that was held at the Uy Building of the Central Philippine University. It was attended by 100 students, who were divided into four groups and were asked to discuss their volunteer works. Their services included gift giving, tree planting and some volunteer work during Typhoon Frank.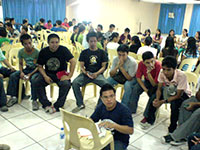 Students on their group discussion.
The event's resource speaker was Maezel Jeongo. She is the Co-Coordinator of Voice Iloilo cluster and former program secretary of Young Men's Christian Association (YMCA) Iloilo Chapter.
Jozyril Jalique, Most Exalted Bro of Phi Beta Epsilon Fraternity, told Pink Pepper that this is the first time for their organization to hold such talk.
"I hope they learned a lot. Through this talk, they will improve and strengthen their skills," he said.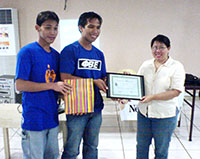 Presentation of a plaque of appreciation
to Maezel Jeongco by Jozyril Jalique and
Josip Sevillano.
Jocip Sevilleno, president of Antique Centralians is thanking Jeongco for coming over.
Pink Pepper learned that the Phi Beta Epsilon Fraternity conducts tree planting, community service, feeding and gift giving activities in Sta. Barbara, Iloilo.