TWILIGHT
Taking a break in Clark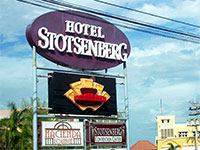 Hotel Stotsenberg welcomes Clark
Freeport Zone.
It was exciting to take a break from family and work as I flew Cebu Pacific to a trip to Clark, once the American Air Base and now remaining as a Filipino community of business and leisure.
The international airport is now called Diosdado Macapagal International Airport (DMIA). Destinations for leisure remain inside Clark and has different hotels that are of service to the business and leisure travelers.
Hotel Stotsenberg is the newest hotel only two years old where the Casa Blanca Casino is also located offering first class hospitality to all who are fond of entertainment. The vast Clark community boasts of the old big trees around the entire area also reminding Asian travelers of the trees that green Singapore.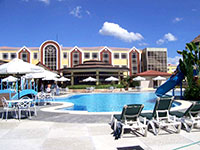 The HOTEL STOTSENBERG at the pool
view.
Hotel Stotsenberg is in the midst of progressive Clark Freeport Zone and near the dynamic cities of Angeles and San Fernando in Pampanga. Hotel Stotsenberg is just five minutes away from the international airport. The hotel is accessible from all points of Greater Luzon via the North Luzon Expressway and other arterial highways making it an excellent base for the discerning business and leisure travelers.
Hotel Stotsenberg is an expansive three-storey 240-room hotel and a sight to behold as it sits proud on a beautifully landscaped four-hectare property in Clark.
From Clark, you could drive to Subic passing through the new SCTEX (Subic Clark Tarlac Expressway) which makes you drive so fast enough without any single intersection to stop by to watch for traffic delays. SCTEX has made land drive easy between Clark and Subic and thru Tarlac as well.
Checking-in at the post Hotel Stotsenberg
in Clark.
I could say that nothing else could educate one's mind but plenty of travel in any part of the world, most importantly, the Philippines.