PURR
Rediscovering Carlo's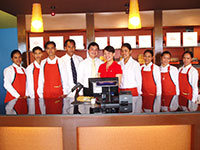 Carlo and Raissa Trenas with the Carlo's
crew.
All the goodness you love
Carlo's Bakeshop, since 1987, had been a favorite destination of lovers of biscuits, cookies, pastries, tarts, cakes and more.
Now, it now boasts of new additions to its sought-after favorites. They are dishes cooked by no less than Carlo and Raissa Treñas, children of Jerry and Rosalie Treñas, the city's first couple and owners of Carlo's Bakeshop.
During a visit to the bakeshop before its grand opening, The News Today was treated to three of their delectable creations --- Red Snapper Fillet and Paolo's Famous Baby Back Ribs for the entrée and Tiramisu, for dessert.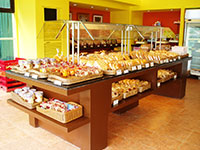 A wide array of bread.
The red snapper was cooked just right, retaining the juiciness and the natural flavor of the fish. It's made flavorful by the lemon butter sauce. It's served with either rice or mashed potatoes. I love the mashed potatoes. So soft and creamy. Obviously, milk, butter and other essential ingredients were not scrimped on.
The baby back ribs were named after another Treñas son, Paolo. According to Raissa, their family loves to cook and that recipe is Paolo's masterpiece. Thus, Paolo's Favorite Baby Back Ribs. They served it with onion rings, which are fried to perfection. It comes with rice or mashed potatoes.
Our meal concluded with Tiramisu, with blueberry sauce glazed perfectly on the plate. It's a medley of lady finger with coffee and liquor, a perfect combination that everyone with a sweet tooth will love.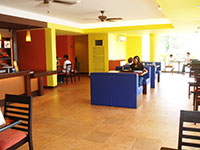 Spacious dining area.
Carlo's menu list is complete with starters, salads, hearty sandwiches, and more.
Another addition to the Carlo's favorites is the line of healthy breads.
"We'd like everyone who comes out of Carlo's to have a 'bitbit' (act of carrying something). We envision that every member of the family is carrying something that is his or her favorite," Raissa said.
"Our products' price range is also affordable. We have products as low as P6 and with P50 as the highest. Despite this, we have maintained the quality of our breads. Quality, freshness and affordability --- these are what Carlo's products stand for," she added.
Carlo's main brain is at the Benigno Aquino Avenue, Dungon A, Jaro, with telephone numbers 3210847 and 5088010; and other branches in Aldeguer Street, with telephone number 3372266 and JM Basa Street, with telephone number 3350625.