Providence-Negros Groundbreaking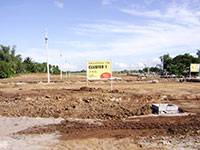 The location of cluster 1.
A groundbreaking ceremony of Providence-Negros Model Houses was held recently at the Providence site, Burgos Extension, Brgy. Granada, Bacolod City. The groundbreaking was officiated by Pastor Jeff Jose, Pastor Roger Rementas and Pastor Roden Depositario and was also celebrated by a releasing of balloons. Approximately 100 guests attended the event, which include the company's officers, business partners, future homeowners, head brokers, and unit managers.
In fulfillment of Providence-Negros' commitment to its homeowners, the capsule containing the plans of the model houses for Clusters 1 and 2 was buried on the ground signaling the start of the construction of houses in the first two clusters. The officers who attended the ceremony include Jonathan M. Jerusalem-Head for Marketing and Sales, Glenn D. Guacena-Marketing Manager, Nathaniel S. Barcoma-Loans Manager Bacolod, Christine L. Montero-Customer Services Department, Juan Paolo T. Magalona-Treasury Manager, Fred Laurilla-Construction Project Management Group Manager, Charity Moises-Admin Manager.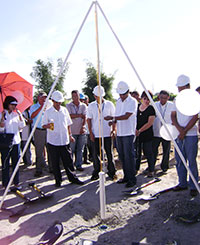 Laying of capsule.
Providence-Negros is the fifth real estate development project of St. Rafael Development Corporation (SRDC) in Western Visayas and the third in Bacolod City. This project is the first venture of SRDC into the development of a township. The initial area to be developed is 60 hectares. The project when consolidated in the future is projected to be 300 hectares more or less.
This project is envisioned to be a city within a city.This real estate development shall also incorporate many new concepts in real estate that will specifically be geared to the enjoyment of the homeowners of its environment. The terrain and the scenic views of its location (Bacolod City and Guimaras to the west, the greenery of the hills and mountains of Negros in the other direction) will be primarily incorporated in the development of the houses and the subdivision as a whole.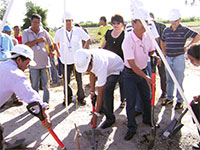 The groundbreaking.
The homeowners will benefit from the master planning done by experts in the field of real estate including famous names like: Palafox and Associates, a famous group of master planners, engineers and architects doing city planning not just in the country but in other parts of the world as well, and Ildefonso P. Santos the Father of Philippine Landscape Architecture.