Iggy's Friends: Friends working together to help a young man fight leukemia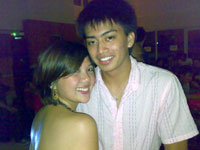 Alex and Iggy.
Everyday I search for Negrense personalities I can feature in this column, which shouldn't be a hard task, because Negros is full of vibrant personalities. I have this imaginary list in my head filled with names of people I can write about. But it's been one of those days lately, that even if you won an Oscar, I'd probably not find you interesting. It's not you; it's just me in one of those "blank-brain" days. My back was against the wall with my weekly deadline coming, and my laptop was just staring blankly back at me.
I realized I was searching with my eyes shut, because I failed to see what was happening in front of my very eyes. Duh… how could I have been so blind?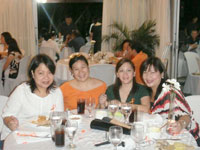 Karina Montalvo-Jugo, Angeli
Yulo-Millan, Jaye Hedriana and
Chole Cuenca-Chua.
There, staring right back at me in my Facebook page was the article waiting to be written. "Feature-worthy" were the magic words I was looking for, and what could be more feature-worthy than the hundreds of Negrenses who are part of a group called "Iggy's Friends", and are working together to help a young man's fight for his life?
Ian Gabriel Villanueva, or Iggy to friends, is a young 20-year-old student from Bacolod, but is currently an academic and athletic scholar at the College of St. Benilde in Manila (major in Business Administration). Last January 6, Iggy was diagnosed with Acute Myelogenous Leukemia (AML), and is scheduled for three rounds of chemotherapy, plus a bone marrow transplant. Without these, he was given four months to live. As a high school student at the University of St. La Salle (USLS) in Bacolod, Iggy was an honor student, student leader, a red-belter in taekwondo, track and field athlete, and captain and MVP of the school's basketball team. When he set his foot at St. Benilde, he became a member of the varsity basketball team.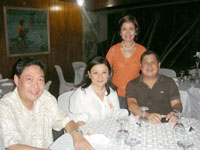 Dinner at the Yulo Residence.
Seated, Vice-Governor Dino Yulo,
Jarie Yulo and Bago City Vice-Mayor
Nico Yulo. Standing, Rosalie Yulo...
I came upon Iggy's condition through a blog from his close friend, Alex, who happens to be my niece. She was asking for B+ blood for his daily transfusion, plus financial help for Iggy's series of treatments. Of course, she and Iggy's mom, Beng, were asking the readers to storm the heavens with prayers for Iggy. From this blog came a wave so strong that swept Negrenses and pulled them together to work for one common cause. Most of them are friends of Iggy and his family, but there are many kind strangers out there who simply wanted to help. The outpour of help still amazes me up to now, and the deluge of prayers, love, and care for Iggy and his family have given Iggy new hope in battling the disease.
What have they done for Iggy? Since the day the blog was released, a myriad of activities have been conceptualized. To raise funds, his high school classmates (USLS Batch 2007) organized a rummage sale, and together with Mrs. Lilibeth Anglo, a parent of Iggy's close friend, organized "iCANCERvive Party for Iggy" last February 13, 2009 at Bacolod's resto-bar MuShu Asian Restaurant and Lounge. Last February 2-9, an exhibit to raise funds was held at the Coliseum Lobby of USLS for Leukemia Awareness. There was also a basketball game between USLS and St. John's Institute, spearheaded by Frederick Rabacal. Each affair had a good turnout, because everyone had fun and were helping Iggy at the same time.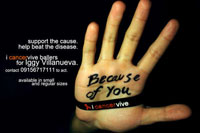 Ballers at P50.00 for Iggy (available
in Manila and Bacolod)..
Last February 21, 2009, moms of Iggy's classmates organized a fundraising dinner, headed by Rosalie Yulo, wife of Negros Occidental Vice-Governor Dino Yulo. Everyone gathered at the Yulo residence in Capitol Heights to enjoy the menu prepared by Rosalie and her friends. It was a cozy dinner affair well attended by Negrenses with big hearts like Vice Mayor Nico Yulo (Bago City) and his wife, Jarie, William and Chole Chua, Jaye Hedriana, Angelie Millan, Joey and Mita Dabao, and many others who all wanted to be a part of this cause.
So far, the biggest event to be organized was the "Meal to Heal" last February 28, at the USLS campus, back-to-back with a benefit concert entitled "LifeSupport" featuring Bacolod's hottest bands. Bacolod's business establishments like Café LeBro, Tender Juicy, Coke, Bob's, Thirsty, and m
any more, moved to the USLS Covered Court to help out in this event. By evening, about 12 local bands pulled their talents together and gave the crowd a party for a good cause. Tickets were sold at P100.00, all for Iggy's benefit.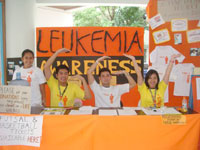 Volunteers for the Leukemia Awareness
Exhibit spell 'IGGY'.
And it's not over yet. Ballers and shirts are on sale in Manila and Bacolod, with Iggy's classmates managing the sales in Negros. If you "Google" his name, you can't imagine the hundreds of blogs made by friends to help spread the word around. Simultaneous to all of these is another huge wave sweeping friends in Manila and Baguio to help Iggy. To date, there is Team Bacolod (spearheaded by Rhoderick Samonte, one of Iggy's teachers at USLS), Team Manila, and Team Baguio. After this article, I am hoping for Team Panay.
I have never seen a wave swell up and envelope this city, where Negrenses from all walks of life, here and abroad, pulled their resources together for a brother, a son, a friend, a classmate, or a stranger whose story touched thousands…. La Salle has always been "One La Salle", and this time, Iggy has made "One Negros". For all of you who have helped, you make this city proud.
Writer's note: To help Iggy, Facebook user's may join "Iggy's Friends", and get more information on how to help out from this site. To know Iggy, please log on to: http://uslsbatch2007.multiply.com/video/item/1/Get_to_know_Iggy OR http://iggyvillanueva.wordpress.com. Or you simply search his name in "google", and the sites will pop up.