Reaching out: From the U.S.A. to Balantang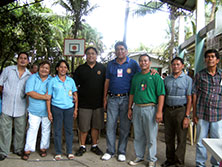 Rotary's Richard Angeles & Joe Totengo with
Capt Joel Jumayao (all in the middle) with
village kagawads.
The Philippine Medical Society on Northeast Florida, Inc. Filipino Civic and Cultural Association of Jacksonville Florida, USA, organized a medical mission outreach program at Barangay Balantang, Jaro recently.
The whole day outreach was in cooperation with The Western Visayas Medical Center, Rotary Club in Iloilo Guimaras, Council of Rotary Club President, headed by Joe Totengco and the Iloilo Chapter.
According to Barangay Capt. Joel Jumayao, the main purpose of this outreach program is to give free medical check up, medicine to the 500 recipients of the said village.