Buffet nights at The Promenade
The Grand Launching of MESHI Japanese Buffet and LAS PAELLAS Spanish Buffet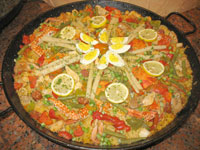 Paella Valenciana.
This month, trust THE PROMENADE to again cook up exciting and new flavors that would surely thrill the taste buds of buffet lovers all over the city.
And truly, we were gastronomically thrilled when I and some members of the press were invited to taste test some Latin eats and Japanese dishes for two of The Promenade's newest smorgasbord treats: MESHI and LAS PAELLAS.
MESHI is a Japanese word which means boiled rice or meal while LAS PAELLAS refers to the popular Spanish dish Paella. Aptly named, these two buffets will of course feature more than just Paella or rice meals what with The Promenade's propensity to dish out authentic fares that will make foodies temporarily forget their diets.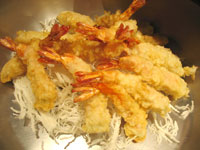 Shrimp Tempura.
MESHI Japanese Buffet will have its grand launching on March 4, 2009, 6 to 10 PM and every Wednesday nights thereafter, while LAS PAELLAS Spanish Buffet will make you crave for more Iberian flavors every Friday night starting March 6, 2009.
MESHI will make Japanophiles hunger for Tuna and Salmon Sashimi, Sushi, California and Promenade Maki and pile more appetizers on plates laden with Mesclun with Mango and Scallops and Tartare of Tuna and Salmon with Wanton Crisps. For the main course, vegetarians could go for dishes like Yasai Itame with fried tofu and bean sprouts while chicken lovers can sample the Yaki Tori (skewered grilled chicken). The ubiquitous Shrimp Tempura is present in the buffet line up as well as the Beef and Mixed Seafood Teppanyaki. For dessert, Crème Brulee, Rum Balls, and Mango Mallows will go well with the requisite after dinner coffee or tea.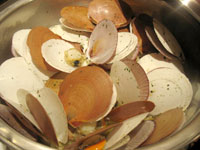 Scallops en Salsa Verde.
On Friday nights, enjoy the rich flavors of Spain in LAS PAELLAS starting with Table Españole, Scallops en Salsa Verde, Gambas Salpicao and Sardines in Olive Oil. Tomato Soup will jumpstart the main entrees of perfectly cooked Pan Fried ala Bacalao and Torte Españole while Rosemary Rubbed Porkloin can also be had at the Action Station. Of course, this buffet will not be complete without three kinds of sumptuous Paella: the interesting Paella Negra, the familiar Paella Valenciana, and the delicious Arroz con Chorizo. To end this satisfying Spanish smorgasbord, indulge on sweet treats like Canonigo, Brownies and Chocolate Mousse.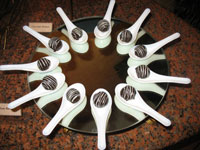 Rum Balls.
When it comes down to food, it's your choice really – you can either go Japanese or take the Spanish route. Whichever way you're going, let your appetite hew a path towards one destination -- and that's at The Promenade.
See you at MESHI Japanese Buffet on Wednesdays and LAS PAELLAS Spanish Buffet on Fridays, 6 – 10 PM at The Promenade at Days Hotel Iloilo.