PURR
Beauty Dynamics opens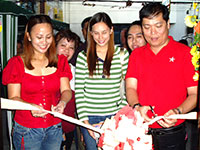 Ribbon Cutting Ceremony Headed by Vice
Mayor Jed Mabilog assisted by owner
April Besara (extreme left) and Sandra
Larson (middle).
Beauty is God-given, thus you have to take good care of such despite the challenges that you face everyday. So said Vice Mayor Jed Mabilog during the opening of Beauty Dynamics.
Beauty Dynamics is owned by April Besara and Ronilo Golipatan of the Beauty Essentials and Beauty Cradle fame, both having an excellent track record in the beauty and skin care industry.
The place has two rooms and houses several beds that can cater to as many clients at one time. Beauty and skin care therapists are at hand to provide you with the regimen that is essential in making your skin healthier, thus making it look better. At the counter are varied creams, lotions and other treatments that are suited for any type of skin.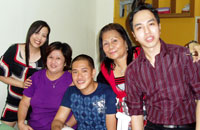 Owner Ronilo Golipatan (extreme right)
with Katrina Casaquite, Goret
Divinagracia, Bryan Javelosa and Linda
Aguire.
Beauty Dynamics is located at the corner of Iznart and Solis Streets.