GO FISH!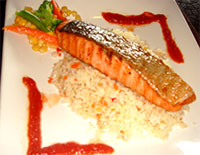 Pan-fried Norwegian Salmon on Rice
Pilaf with Spicy Tomato Sauce.
I'm no fish expert, but one taste of Blue Jay's Pan-fried Salmon and Chilean Sea Bass, and I've become a convert. Of course, I still won't renounce my love for steak, but who can resist the flaky and fresh Norwegian Salmon dribbled with spicy tomato sauce on Rice Pilaf and succulent Chilean Sea Bass on creamy Mashed Potatoes with Carrot and Ginger Coulis?
If you're tired of the same-old, same-old pasta dishes and a reprieve from the usual meat and chicken meal is what you're looking for especially this Lenten Season, then fish is the way to go. Believe me, it's not impossible to have a fool-proof, perfectly cooked lunch or dinner in this city. Buy the imported Sushi-grade Salmon or Chilean Sea Bass fillet by the gram at Blue Jay Coffee and Deli, have it cooked while you wait and voila! Enjoy your hot-off-the -pan fish with your choice of rice pilaf or mashed potatoes served with corn, carrots, and broccoli on the side. There's not a lot of frou-frou involved in the preparation of these two dishes, but simplicity is the key here. And nothing is simpler than pan-fried fish. A glass of Strawberry Mango juice will complete your meal as well as a bite of Chocolate Banana Tart and you can go home with a smile on your face.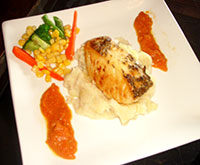 Pan-fried Chilean Sea Bass on Mashed
Potatoes with Carrot and Ginger Coulis
and Veggies.
Aside from great coffee, desserts, and delicious lunch and dinner entrees, Blue Jay is also not called a delicatessen for nothing. Hard-to-find deli delights like cured meats (Prosciutto di Parma and Romancio, Pastrami, and Jamon Serrano), sausages (Hungarian, Cervelat, Schublig), and gourmet cheeses by the gram (Gouda Dutch, Gruyere, Fontina, Gorgonzola, Manchego) to name a few, can be bought here.
In addition to fish fillets like Norwegian Salmon, Chilean Sea Bass, and Creamy Dory, steak and meat lovers will also be happy to know that Blue Jay Coffee and Deli has US Certified Angus Beef Striploin, US Prime Angus Rib Eye, and the super high-end Wagyu Kobe Beef available.
Visit Blue Jay Coffee and Deli along Gen. Luna St. and Blue Jay Coffee at Smallville, Diversion Rd.