Istayl Naton's Angeli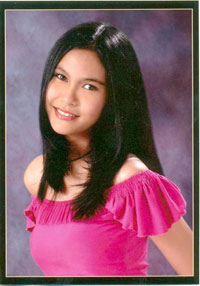 Do something about your dream.
Her modeling stint for a designer when she was just in high school paved the way for a television network personality to consider her to host their local TV show. Although the plan did not materialize right there and then, having Angelia Gabrena Ong onboard is topmost in their mind. Thus, in 2007, GMA Iloilo host Mama Monyeka asked her to go to the station. There, she was pushed to audition for Istayl Naton, GMA Iloilo's top-rating show. She said that everything she did was impromptu and didn't expect to get the part. But, she did.
Now, she entertains Ilonggos every Sunday and through this article, her fans will get to know Angelia Ong better.
The interview ….
Kathy M. Villalon (KMV): Describe Angelia Ong.
Angelia Ong (AO): Simple.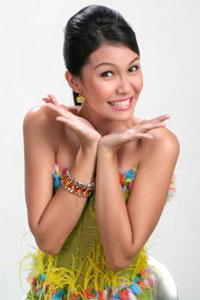 Being in front of the camera is living
her dream.
KMV: How does it feel to be famous?
AO: It's really humbling to know that people get to know me now. It's really very flattering. So, I really try my best to look good whether or not I'm at work. People have expectations from me. One of my best experiences was when we had our taping out of town and when the girl scouts, who were the guests then, kissed me. I had to make 20 autographs for them! It was really fun!
KMV: What's it like being in front of the camera? How do you prepare yourself for such?
AO: Having this kind of job and being in front of the camera is actually living my dream. When I was younger, I looked forward to doing this. I never expected I'd be on TV at 17. (She's now 18). On how to prepare for it … well, I think I was already prepared ever since (laughs). I already envisioned it in front of the mirror. Every time we have tapings, I motivate myself that I have to improve and hopefully capture the hearts of the Ilonggos, and later the world! There's no harm in dreaming di ba? (laughs).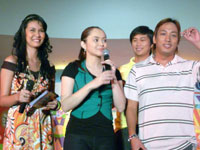 First ever live mall show at SM Bacolod
with John Dino and Angelika de la Cruz.
KMV: Which TV personality do you wish to work with?
AO: I would love to meet and work with Mel Tianco. I know I can learn a lot from her. I also like the way she handles conversations and how she hosts. She sounds so natural.
KMV: How do you keep yourself beautiful and fit?
AO: I don't have a lot of beauty regimen other than simply drinking a lot of water. I take care of my skin and face by taking a bath, staying away from too much sunlight and avoiding too much stress. Modesty aside, I love the color of my morena skin. Very Filipina.
KMV: What's your fashion approach?
AO: I love to wear a dress occasionally; especially those skirts that are above the knees because I love the long legs that I have (smiles). But on an ordinary day, I wear a shirt, pair of jeans and comfy shoes. I love clothes that are simple but have a statement.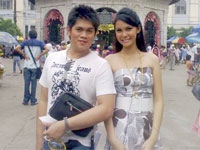 With Mama Monyeka..
KMV: The youth look up to you. Are there concerns that you would like to tell them?
AO: If ever you have a dream, you should do something about it. It's actually the effort and love that you put into the craft that drives you. Also, always consider what your parents have to say. Believe me, every time I disregard what my mom tells me, I always screw up! I guess they know what's best for us. Lastly, don't forget to pray because it works. That's what exactly what happened to me, so I believe it could happen to you as well.
KMV: What's the most important lesson you have learned?
AO: I learned to always have faith in the things you love. And of course, do something about it because faith without action is dead.