Angelati Italia Gelato in Al Dente

Enjoying Angelati Italia.
ANGELATI ITALIA is here in Iloilo City! Angelati is a coined word from Angel and Gelati (plural of gelato) that we have come up with. We wanted to use Angel to exude the angelic and heavenly side of our gelato, which is low-fat, almost sinless and good for everyone. Italia is used to show the Italian authenticity of our gelato.
ANGELATI ITALIA sources it ingredients from Italy and produces the gelato fresh here using top-of-the-line equipment. It is guaranteed to be a premium low-fat authentic Italian treat.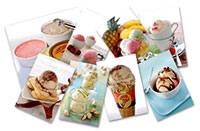 The irresistible goodness of Angelati
Italia.
The history of gelato dates back to the 16th century. There is some confusion in the origin as to where or who really invented gelato. It was the Italians, the introduction of gelato to the rest of Europe is credited. Probably the most influential was the Sicilian-born Francesco Procopio dei Coltelli who was one of the first to sell it to the public. The art of traditional gelato-making was passed on from father to son, improved and perfected right up to the 20th century, when many gelato makers began to emigrate, taking their know-how to the rest of Europe.
Gelato in Italian literally means "frozen", but it is basically used to indicate the Italian type of ice cream.
Enjoy pure Italian gelato bliss in Al dente now. Located at Sarabia Manor Hotel and Convention Center, Gen. Luna St. Iloilo City. Telephone number 3367813.