TWILIGHT
Cupid's Valentine B-day Bash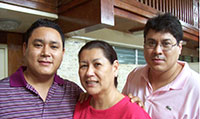 Birthday celebrator Cupid Barbers with
Mom Leda and borther Robert Earl.
Valentine's Day was a rainy day in Bacolod City but the closer friends of birthday celebrator Cupid Barbers insisted to join him cut the cake, taste the kare-kare de pata, lumpia shanghai, noodles, steamed fresh bangus, and of course the fave lechon baboy and the ever tasty duck in soy.
Mommy Leda Barbers and brod Robert Earl were just too happy to treat Cupid to a luncheon bash at their Bacolod home as Pinky Javellana baked the best choco cakes and other desserts ever.
Loving Princess Uy - Barbers and daughter Adi were also around for the celebration along with her mom May S. Uy. Your Twilighter Mini was of course invited and joined the food trip of everyone sans the desserts to maintain the figure.
Cupid was all smiles to have his family circle and friends around like Antoni Espinos, Giorgio Espinos, and Ann Gamboa-Araneta of the famed 21 restaurant.