PURR
A reunion for Balik Cafe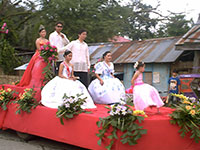 Ladies and gentlemen on a float during the parade.
"Pag-iririmaw 2008" as the name suggests, is a gathering of Balik Café held at the Barangay Café, Sta. Barbara.
It was started with a mass, followed by a caravan from the café and around the major thoroughfares of Sta. Barbara. A rondalla by the Sta. Barbara Central Elementary School students was rendered. A sumptuous lunch followed, with food coming from different 'purok' areas were donated. Some parlor games and traditional games were played.
ABS-CBN Foundation donated an ETV Package, which includes a TV set and educational CDs, which would be of big help to the students.
Indeed, it was a day of funfare and camaraderie for all Cafenians.