Bundles of Joy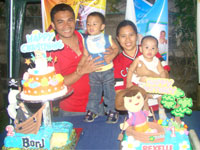 Daddy Steve with Borj and Mommy
Cheng with Benj.
On occasions like birthdays and baptisms, parents genuinely want the best for their little angels. This has never been truer than in the case of mommies and daddies like Engr. Jose Rhett Gayol of Central Lopez in Sagay and Ma. Sosil Gayol of Ford Negros, when their unico hijo Rhett Andrei or "Bboy" as dotingly called by his family and friends turned one year last January 27.
Bboy, a cute and hyperactive baby who's still throwing a tantrum earlier that day, managed to brighten up when families and friends along with a lots of kids started to arrive and enjoyed the trick show. Aside from kiddie stuffs and parlor games, the party had a bottomless ice cream, the food and giveaways were just too plenty for everyone.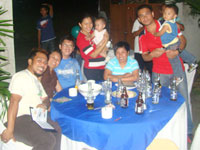 Friends working abroad join in the
celebration.
Meanwhile, Daddy Steve Felizardo, a sea farer and mommy Richelle Lizada Felizardo, had their cuddly second baby boy they named Ralph Seward (biblical name for guardian of sea) baptized last February 8 at the Holy Family Parish Church in City Heights, Bacolod City.
The party didn't seem to stop as Rhys Steven "Borj" Felizardo, eldest son of Steve and Richelle, and Rexelle Jane Montero, first baby of young couple Rex and Rona Jane Lizada Montero had their joint birthday celebration that very same day also. Borge, who turned 2 years old and R.J., 1 year old, were more than happy to share the occasion with their loved ones. The guests, a merry mix of relatives from both sides, friends in business and academe had a veritable feast.
Apart from the sumptuous early dinner buffet catered by Rafaelo's, fun activities, clown and interesting prizes kept the kids occupied as the adults were savoring juicy conversations and warm friendships over a drinking spree and videoke showdown open to all the guests with potential vocal talents.