TORIADOR
Power Lunch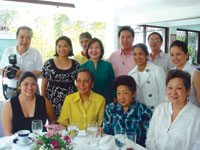 Judy Araneta-Roxas, mother of Senator Mar Roxas recently hosted a fabulous Saturday lunch held at the beautiful abode of Eva Araneta-Serra. It was not, however, your typical lunch but a truly rare occasion as a hundred fifty or so influential women showed up. The all-female guest list was composed of the city's movers and shakers, entrepreneurs, socio-civic leaders, and society mavens.
A warm and gracious hostess, Mrs. Roxas made all the guests feel welcome as she talked fondly of her son. "Mar is a good person and I think it's time we put an honest and capable Ilonggo in Malacañang." As we all know, the last Ilonggo president was Senator Mar's grandfather, Manuel Roxas. When asked when her son will tie the knot, Mrs. Roxas just said, "Ambot!" with a knowing smile on her face.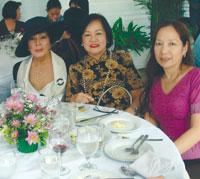 Aside from the wonderful company, one of the highlights of the lunch was the presence of renowned chef and restaurateur Margarita Fores. Chef Fores took a break from her hectic schedule to personally prepare her sumptuously original and delicious dishes for the invited guests.