Panching's special day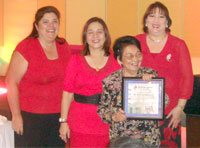 The Sta. Maria Apostleship of Prayer
led by its president Juliet Go (extreme
right) together with Marichel Magalona
as secretary and Nilda Chua as assistant
secretary, gave a plaque of appreciation
to its fellow member Panching for her
tireless service to the group and its
community.
It was a special day for an extra special lady.
Esperanza (Panching) Buenconsejo celebrated her 92nd birthday at the Westown Hotel recently. Family and friends who wanted to honor this extraordinary lady came and took part in a mass, a speech, singing and good conversations that transpired on that fabulous dinner party.
She sang "You are My Sunshine" as an ode to her friends whom she considers as her "sunshine."
She also shared this snippet about growing old: Growing old is mandatory, growing up is optional.
Instead of gifts, she enjoined those present to donate cash for the repair of the Jaro Cathedral. She was able to raise approximately P50,000.
Indeed, it was a special occasion for an extra special lady.