PURR
The Daughters of Mary's gift-giving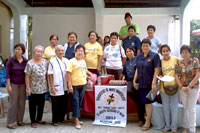 The members and volunteers of DMI
International Iloilo City.
Happiness was felt by many in Barangay Balantang recently when the Daughters of Mary Immaculate International and the St. Joseph Husband of Mary Circle shared some gifts, games and songs to them.
The two groups solicited food packs, bags and clothing from concerned individuals as well as the officials of Barangay Balantang and shared them with the residents.
Freebies were also given to the winners in the Bingo game as well as the first four who came to the venue early.
The activity reminds us that for our country to become better, those who have been blessed with many things, should learn to share what they have. And for those who were given the passion to make such sharing possible, do what you can.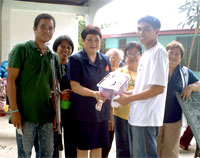 DMI's Rosario Villalon (middle),
barangay councilors and a Bingo winner.
Like the DMI and the SJHMC, whose volunteerism spirit never fails to waver amid our difficult times.
DMI is headed by Rose Rasote.