PURR
Not Your Ordinary Dolly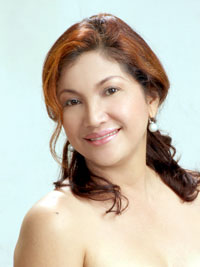 Dolly Chua, a woman of substance.
Dolly Calmorin Chua is a well-rounded woman who makes it a point to be all that she should be --- a partner to her husband, a good mother, a businesswoman and someone who pursues the things that she wants.
She and her husband James own the famous J&R Family Studio at Robinsons Place Iloilo. She is the general manager of the said studio who also handles its marketing side and guess what, its beauty consultant.
She is the mother of Jameson, Lyn Rhose, Jansen, Ma. Caryl and Jan Michael Chua. J&R was named after Jameson and Lyn Rhose.
Kathy M. Villalon (KMV): Describe yourself.
Dolly Chua (DC): I am optimistic and confident. With the constant need to maintain good relationships with customers and co-workers, I grab a heap of optimism to infect others with my smile and thereby making the worst frown turn into the sweetest grin. Meeting varying personalities is definitely part of my personality. With great confidence, I face each with fearless determination and manage to get along with the different people I transact with.
Aside from the shields I use to get through everyday, my husband and my five children give me the strength to push through whatever difficulties there may be. Yet with all the problems I face, I never give up, mainly because I love what I do.
KMV: How are you as a mother? A wife? As a friend?
DC: Love and care are perhaps the things that make a mother worthy to be called one. And giving these to my beloved children is my foremost priority as a responsible and mature mom.
As a wife, I always see to it that I do well my roles in the family. I take good care of my kids and sustain my warmest love for my husband. As it takes two to tango, I am always reminded that I have to work hand in hand with my husband in building a harmonious and contented family.
To be blessed with good friends is such an overwhelming thing. So for that matter, I value them as much as I value my other social interactions. I stay loyal, kind, open, and cordial to my friends at all time.
KMV: What are the challenges that you face in this line of work and how do you deal with them?
DC: Just like any ordinary businesswoman, I face certain difficulties in line with my work, but I believe that I have every trait to counteract those challenges. Competing with other studios, maintaining good relationship with customers and dealing with different personalities are just some of the most challenging parts of the job. In an industry where competition is inevitable and the need for modification and development is great, I take out a parcel of discipline and wit to stay within the game and keep on being in the winner's circle.
KMV: In your busy career, you need to have time for yourself, too. What leisure activities do you get into?
DC: To stay fit and happy, I make sure I know how to balance things out. Usually, I regain my composure by indulging into things that are fun and of my closest inclination. Modeling, for that instance. In this, I take the stage as if it were my playground, and the apparels I wear as my out-in-the-wild paraphernalia. I also enjoy having coffee break with my close friends during the days that I not only need a sip of caffeine but a dose of fresh acquaintances and a worthwhile exchange of information.
KMV: I understand you're producing a show on February 14? Tell us more about this.
DC: It is a Dinner Show-Dance Valentines Affair featuring Boracay's Top Acoustic Band, R.E.A.L. I work with MJ and Aileen Capalla, the talent manager. It is a dinner buffet at the Amigo terrace Hotel's Coral Ballroom at 7pm.
The show aims to promote the Ilonggo talent while giving fun and amusement to the audience and to showcase the Ilonggo's love for lasting relationship.
KMV: What will guests expect from the show?
DC: The R.E.A.L. Acoustic band will serenade the audience with their captivating songs. There will be dancing after the dinner. Gift certificates and surprise gifts will be given to the chosen couple.
Love is in the air and the show will keep it burning. It will be a night of romance, a moment that will etch in the hearts of the audience forever.