Italian Coffee, anyone?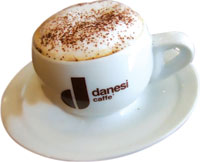 Haute java -- A cup of Danesi Italian
coffee.
As this city's emissary of Danesi Caffè, the Roman coffee roaster with over a century of coffee roasting experience, Blue Jay is giving java junkies a whole new reason to get that requisite caffeine fix. With Rome's premier coffee in the house, Blue Jay has upped the ante for this city's serious coffee drinkers.
The longstanding house blend of Blue Jay may be snappy and robust, but if you know your coffee, then you won't be surprised by the smoother, richer, and finer taste of Danesi. "Blue Jay has elevated coffee drinking to a whole new level with their Danesi Caffè," said one coffee aficionado after a cup of the Italian blend. A cup of Danesi coffee is truly an experience with its dense and velvety flavor apparent in every satisfying sip. "If the Pope drinks it, then maybe it's that good!" quipped another loyal Blue Jay patron.
Coffee experts say that there are four important 'elements' in making a good cup of coffee. You should have the best machine, the best grinder, the best barista, and of course, the best coffee. Arguably, Blue Jay has all these elements especially with the addition of Danesi Caffe to its coffee menu.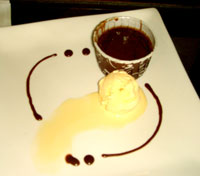 Molten Lava Cake.
The distinct taste of this original Italian coffee can be had no matter what your preference is: latte, brewed, mocha, or cappuccino. Of course, to add a bit of whimsical fun to your coffee experience, expect some latte art in every Danesi cup at Blue Jay. This Italian coffee is also best with Blue Jay's equally rich desserts. Try it with Oozing Chocolate, the coffee shop's newest sweet treat, or with bestsellers Molten Lava Cake and Blueberry Cheesecake.
So if you want original Italian coffee to perk up your day, then there's nowhere else to go but at Blue Jay Coffee and Deli.