Feast of San Blas in Malonoy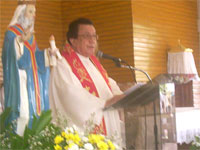 Msgr Vicente Hilata.
A feast in honor of San Blas or Saint Blaise was recently held in Brgy. Malonoy, Dao, Capiz. No less than Msgr. Vicente Hilata officiated the mass in honor of the patron saint of the said barangay.
Part of the traditional rite on the feast day of San Blas is a special blessing. On this day, devotees have themselves blessed by two crossed candles (a symbol of the patron saint) which they believe will heal them of their ailments, especially of the throat, or bless them in their daily lives.
According to legend, Saint Blaise performed a miraculous cure of a young boy who was choking to death on a fish bone. His veneration was increased by many miraculous cures, especially of sore or diseased throats. He is represented holding two candles in his hand (used for the blessing of throats).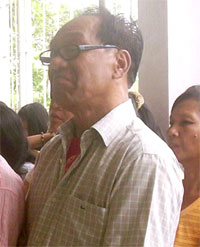 Cesar 'Toto' Cobrador.
Guest of honor during the fiesta was Cesar "Toto" Cobrador who was the generous benefactor of the chapel built in Brgy. Malonoy in honor of Saint Blaise.
Cobrador, a successful businessman based in Manila, is a native of Brgy. Malonoy and frequents the place helping his barangay by constructing several infrastructures such as the chapel and cemetery, waiting sheds, public comfort room, covered court, and service roads. He is also active in his hometown Dao sponsoring nine fiestas as hermano mayor, a major donor to Dao Senior Citizen Organization, Daonhon less fortunate children, Dao Parish Church, and several others.