Wadee's 7th Birthday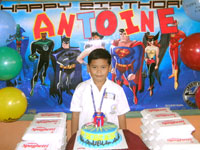 Antoine Virgil 'Wadee' Casio.
Antoine Virgil "Wadee" Casio recently celebrated his 7th natal day with a Justice League-themed birthday party with his classmates. The party was hosted by Jollibee and the kids had such great fun with the party games, prizes, treats and loot bags. The highlight of the fun was the arrival of Jollibee mascot who danced with the kids. The youngsters could not seem to have enough of the jolly mascot.
Wadee, a first-grader at Filamer Christian College was so happy that when asked what his birthday wish is, he answered "the same birthday party next year!"
A luncheon celebration at the beach was also held with family relatives and close friends of the celebrator's Tatay and Mom. Wadee is the beloved son of Col. Virgilio "Tootsie" Casio and this writer.