PURR
Pinoy Valentine with a twist at Bauhinia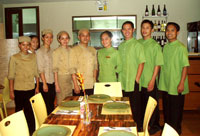 The Bauhinia staff.
A taste of traditional Filipino ingredients cooked with a twist will be enjoyed by families, lovers and friends (and even the loveless) at Bauhinia Filipino Cuisine on February 13, 14, and 15, 2009.
Start off your dinner with the Bauhinia Appetizer Platter --- Smoked Bangus Crostini, Heart of Palm Spring Rolls and Crispy Calamari Salad. Each bite of the crostini is a marvelous experience especially when it is topped with melted cheese. Delight in the forkful combination of carrots, bell pepper, crispy squid and garlic dressing for the Crispy Calamari Salad.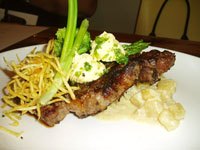 Grilled Certified Angus Steak Rib Eye.
The soup is a unique treat. First, the waiter will serve you with a bowl of layered salted eggs, onions and topped with flaked adobo. Then, with a masterful gesture, the soup is poured before you. That's the Roasted Tomato Soup with Crispy Pork Adobo Flakes.
The romance with food does not end there. There are still three exciting creations to choose from the main course. The first choice is Pan Fried Fillet of Dory with Mango-Escabeche Sauce, Filipino Fruit Salsa and Longganiza Fried Rice. The second choice is Char Grilled Tenderloin of Beef, topped with Prawns, Bistek Tagalog Beurre Blanc and Roasted Onion Potato Risotto. The third choice is Grilled Certified Angeus Steak Rib Eye, Roasted Garlic-Chive Butter. If cooked medium rare or medium well, the steak retains its tenderness and juiciness. All can be shared by two. Each has a siding of asparagus.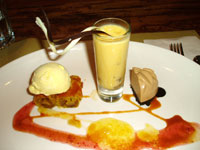 Dessert Degustation.
Heighten the romantic dinner with a dessert degustation of Choc Nut Cheese Cake, Banana Turon and Sago Shooters. All three are placed on one plate and surrounded with strawberry, mango and caramel sauce.
Enjoy these Filipino gourmet dishes in the relaxed surroundings of Bauhinia.
For reservations, contact (033) 329695.