Guests at the Queen's Coronation
(First of two parts)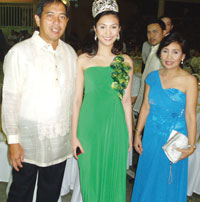 Andy and Sony Montelibano with 2008
Jaro Queen Andrea Montelibano.
When the Jaro Plaza auditorium lits up, especially on their Queen of Jaro coronation night, expect to see many beautiful faces in attendance.
Last February 2, Marie Angelica, the lovely daughter of renowned Ilonggo singer/ composer and businessman Jose Mari Chan and the gracious Mary Ann Ansaldo was crowned as the Queen of Jaro for 2009.
Amid the pomp and pageantry of the elegantly prepared coronation were a cast of stellar presonalities namely notable politicians, civic and social luminaries who came dressed up to the nines to witnessed such a momentous event.
It was indeed a beauty full night!