Passad wins an award in Muebles Paris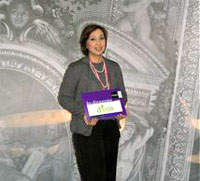 Gemma Lee and her award.
A sofa made by Passad, represented by owner Gemma Larraga-Lee won an award in the Muebles Paris, a satellite show of Maison et Objet, the most prestigious show in Europe.
The winning sofa is a handcrafted sculptural piece of laminated small pieces of the gmelina (plantation variety) wood.
They were four companies that represented the Philippines. They were Lightworks, Locsin International, Demex Rattan and Passad. The three mentioned are from Luzon.
Passad's trip to Paris was part of the "Manila Now Goes To Paris" project of the Chamber of Furniture Industries of the Philippines. The project aims to promote the Manila Now 2009, which is slated on March 5 to 8 at the SMX.
With the Muebles Paris representatives.
"This show is very hard to get into as the organizer, which is SAFI is quite strict and they do not just accept any exhibitor. They go around the shows and target the companies that are qualified to join their shows. The criteria is mainly design concepts," Lee said.
Passad has been in existence for 12 years and had been in the export business for five years. Some of its awards include Likhang Pilipino Best Design for Furniture at the Philippine International Furniture Show 2008 and KATHA Award for furniture at the Manila FAME April 2007.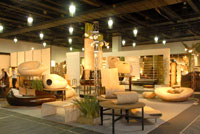 Katha Award for best furniture design,
Manila FAME International April 2007.
At passad, tiny chips of wood are painstakingly handcrafted to create sculptural works of art, each one so unique, you will be proud to call a passad piece, your own.
Contact details of Passad are the following: telephone (033) 3295771, fax (033) 3290359, mobile +63 917 7202011 and email info@passadexports.com.
Visit Passad's website at www.passadexports.com.