Twilights
Yoly's Despedida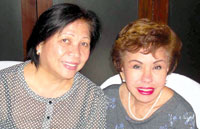 Yoly Kilayko and Baby Bonnin.
Closer friends within the female Sampaguita Lions Club gathered one night at the posh 21 Restaurant to say hello and goodbye to their fellow lady Lion member Yoly Ballesteros who is set to leave the country.
Charming faces like those of Yoly Kilayko, Leda Barbers, Tess Yusay, Myrna Servando, Mitz Mijares and more, gathered to enjoy the night and inspire Yolly B. to have a beautiful time in her stay out of Pilipinas.
Good food of the resto was served to the charming and still vibrant ladies of Bacolod society as they took out of their usual business and social moments to join friendly Yoly B. that day.