Duag Ilonggo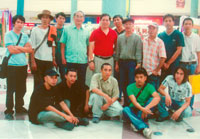 The WCST Alumni Artists.
The Alumni Artist Association (WVCST-AAA) held its 4th Annual Exhibit at the Robinsons Place Iloilo.
The exhibit entitled "Duag Ilonggo" was headed by its new president, Tito Nobleza. The participating alumni artists were Jansen Felimon, Melkie Villalobos, John Rey Salavante, Robert Vargasm Ramon de los Santos, Erwin Sabio, Alan Cabalfin, Bal Cerbo, Lary Dumagat, Ritchie Baylon, Ferdie Santiago, Joel Ordoyo, Edgar Gonzalez, Sherwin Baylon, Vic Fario, Cyril Tuaro, Arel Zambarrano, Joemel Mirabuena, Richard dela Cruz and Alex Ordoyo.