Media fellowship night by Capelco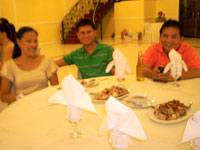 DYOW Bombo Radio Station Manager
Cyril Simpas (extreme right) with Bombo
Beth and husband.
Capiz Electric Cooperative, Inc. (CAPELCO) tendered a Media Fellowship Night last January 21, 2009 for local media men in Capiz. The merry affair was held at the Hercor Pavilion where food, drinks, and jovial interaction among media men were teeming.
Engr. Edgar Diaz, general manager of CAPELCO, declared that the media fellowship night is now on its 4th year and is an annual affair already. He acknowledged the vital role of media as partners in information dissemination of the programs and services of the electric cooperative. The hosting of the affair is their way of expressing their gratitude and appreciation to the media.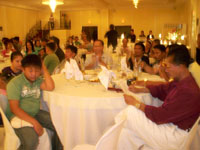 Left is Jason Capundan, son of TNT's
Joel Capundan with Noel Valentino (right)
and other members of the local media.
RMN-DYVR-Roxas Ely Abarra, president of Kapisanan Ng Mga Broadkaster sa Pilipinas (KBP) and John Heredia, president of National Union Journalists of the Philippines (NUJP) also delivered their messages and assured their support to CAPELCO in whatever endeavor that it will have.
After the short program, the CAPELCO management held a raffle of prizes participated by all media men where all were winners. A videoke showdown between media men and CAPELCO employees was next with big prizes awaiting the winners.
Everyone had a great time and just like the tag of the party, it sure was a fellowship among media persons and CAPELCO people wherein they talk and laugh like old friends.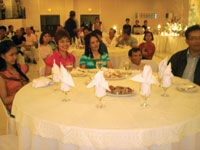 Alto Cable's Dolly Buday (2nd from left),
Elsa Gonzales with husband Ruben
Gonzales and John Heredia, host of
Abre-Aga over Alto Cable.
Kudos to CAPELCO for the thoughtful gesture to the media people!