First Autocross Car Racing by Ground Effects: Another motorsports history in Iloilo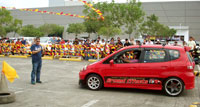 Gus starting grid.
Gus Banusing Jr. of Ground Effects wanted to bring back the fun of car motorsports in Iloilo City having in mind that it should be safe and affordable for everyone. With safety should as the primary concern, Ground Effects decided to introduce Autocross Racing in Iloilo City.
Autocross is world known form of Car motorsports that emphasizes safe, low-cost competition and active participation. An autocross is a timed competition where drivers navigate one at a time through a temporary course marked by traffic cones Autocross tends to place more emphasis on car handling and driver skill rather than on engine horsepower. The events typically have many classes which allow almost any vehicle, from economy sedans, your parents' cars to special purpose-built or modified vehicles, to compete.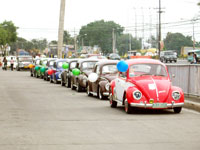 Speeds are slower in absolute terms when compared to other forms of motorsports, usually not exceeding highway speeds, but the activity level (measured in discrete turns per minute) can be higher than even Formula One due to the large number of elements packed into each course. Autocross courses are typically 40 to 70 seconds in length. In addition to being a national-level motorsport in its own right, autocrossing is a good way to learn skills that transfer to road racing, as drivers learn vehicle control and driving ethics.
The beauty of Autocross is that the event does not require a large area unlike drag racing. You can put the event anywhere like in large to medium paved areas like Air Strips, villages to even parking lots. like in SM City. Typically, new courses are created for each event so drivers must learn a new course each time they compete. Prior to driving, a competitor will walk the course, taking mental notes, and developing a strategy to be refined upon subsequent runs.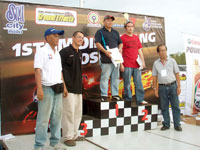 This has been the dream of Gus Banusing to popularize Iloilo city for its Autocross racing events. With the Dinagyang season as its perfect backdrop, Gus Banusing did not waste anytime and collaborated with SM City and Out of the Box Productions to implement this historical event.
"It is simply because it is an inexpensive, safe way to experience racing here in Iloilo City. It helps the Ilonggos discover their car's capabilities and limitations, making them a better, safer driver on the road. And it develops your own driving ability. Many would-be race drivers use it as a jump point into the sport of road racing. But probably the greatest thrill of autocross is the challenge of beating your own time. It's really fun and very safe," said Banusing.
Another beauty of Autocross racing is that it is not a cash driven motorsport. Autocross Car Racing around the world emphasizes on prizes not related to actual cash. This is for the reason that participants should join the contest to show their talent, ability as well as their skill in driving their cars rather than joining and winning just for the sake of money.
With the Blessings of the Dinagyang Foundation, the City Government and the permission of SM City Iloilo, the FIRST AUTOCROSS RACING happened last Jan. 16 to 18, 2009 at SM City Iloilo. It attracted more than 40 car racers as well as car enthusiasts. There were so many Honda Civics, Nissans, VW Beetles and Toyotas. With the large success and very good response, Gus of Ground Effects will organize the the second leg of Autocross Car Racing this Summer 2009. This time, it would be bigger and more fun for the whole family.