Mark Borres: Ilonggo Youth Ambassador conquers Japan and ASEAN
The program aimed to gather the youths of Japan and ASEAN to promote friendship and mutual understanding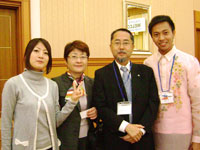 Borres with his Japanese foster family
in Kukouka, Japan.
An Ilonggo Youth, Mark Borres, who recently qualified as the Philippine Youth Ambassador conquered Japan and ASEAN countries for the 2008 Ship for Southeast Asian Youth Program (SSEAYP) sponsored by the Cabinet Office of Japan and 10 member-countries of the Association of Southeast Asian Nation.
Borres, a graduate of Bachelor of Arts in Political Science (Cum Laude) and Bachelor of Laws (Most Outstanding Graduate in Co-curricular Activities), both from the University of San Agustin, was among the 28 Filipino young ambassadors who represented the country in the program. This year almost 340 young ambassadors from Japan and ASEAN gathered at Sheraton Miyako Hotel in Tokyo for the annual activity. They then took on board the ship Nippon Maru and cruised Southeast Asia particularly Brunei Darussalam, Indonesia, Thailand, Vietnam and Philippines.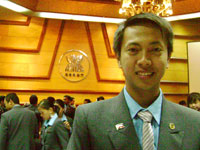 Borres at the ASEAN Secretariat
Headquarters in Jakarta, Indonesia.
The program during the voyages included the discussions on relevant social and youth issues, cultural introductions, sports, recreation and club activities. Activities at each Country port-of-call include interaction with the local youth, courtesy calls on dignitaries and institutional visits, as well as community service and home stay experience.
The program aimed to gather the youths of Japan and ASEAN to promote friendship and mutual understanding. The program was on its 35th year which started in 1974 based on Joint Statements issued between Japan and the five ASEAN countries, namely, Indonesia, Malaysia, Philippines, Singapore and Thailand. Brunei Darussalam joined in 1985. Vietnam participated in the program in 1996 while Laos and Myanmar participated in 1998, and Cambodia in 2000.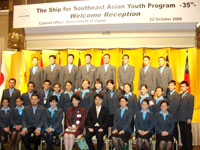 The Philippine delegates with the
representative of the Cabinet Office of
Japan and the Chief Administrator
during the Welcome Reception at
Sheraton Miyako Hotel.
Borres, who was elected as the Project Manager of the Introductory Program of the discussion group, is now preparing a project proposal entitled 1st Japan-ASEAN Youth Parliament to be submitted to the Cabinet Office of Japan for funding or through the Singapore-ASEAN Fund.