The Festival Queen and Hiyas sang Iloilo 2009 winners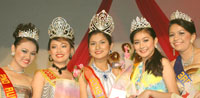 2nd Runner-up winner Kim San Luis,
Iloilo Festival Queen Ryn Estrevillo,
Hiyas sang Iloilo Renz Poblacion, 1st
first runner-up Gladys Jane Pacete
and 3rd runner-up Jocelyn Fanolan.
Two charming Ilonggas blessed with stunning features emerged as this year's Iloilo Festival Queen and Hiyas Sg Iloilo 2009 in a glittering beauty pageant last Wednesday night, Jan. 21, 2009 at the CAP Auditorium.
The Iloilo Festival Queen 2009 is the statusque Erika Ryn Estrevillo a high school coed of Iloilo National High School. Hiyas Sg Iloilo 2009 winner is Renz Poblacion of Janiuay National High School.
Poblacion also got the Miss Photogenic, Best in Gown , Best in Swimsuit, Miss Ponds and Miss Flawless special and corporate awards.
Coming close was the Miss Talent, Miss Boardwalk and Best in Baro't Saya awardee cum first runner-up Gladys Jane Pacete of West Visayas State University followed by the 2nd Runner-up winner Kim San Luis who also got the Miss Sunsilk and Best in Festival Costume awards and 3rd runner-up Jocelyn Fanolan of Central Philippine University.
The other candidates who took home the other special and corporate awards were Miss Congeniality Stephanie Evans, Miss Closeup Beverly Balagot, and Best in Production number Mary Edelweisse Casinilio.
A live orchestra and high tech video presentation added pomp and pageantry to this beauty pageant for a noble cause produced annually by the Sr. Sto. Niño Festival Queen of Iloilo Inc. to raise funds for the benefit of the Cofradia de Sr. Sto Niño of San Jose Parish Church of Iloilo City and other religious institutions in need of financial assistance.
Iloilo festival Queen and Hiyas Sg Iloilo is the brainchild production of showmaster Eddie Juatas and Zedrick Señeres.