PURR
Chinese cuisine at The Promenade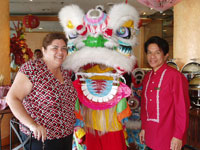 TNT's Marichel Magalona and Days Hotel
Food & Beverage Manager Rey Ponsaran
with a dragon dancer.
The city is abuzz with Chinese New Year extravaganza. A great way to continue celebrating it is a time with your family and friends over lunch at The Promenade's family feast that features Chinese cuisine this Feb. 1, 2009, Sunday.
Delight in the numerous Oriental fares that will be laid out before you on this special day.
Speaking of Chinese New Year, the Promenade presented a one-week lunch buffet last Jan. 26 until Jan. 30, 2008 and diners were quite satisfied.
The News Today was lucky to be invited to take part in the opening of the said buffet.
A dragon dance at the front of The Atrium progressed towards the lobby of the said commercial complex and into the other floors, including The Promenade.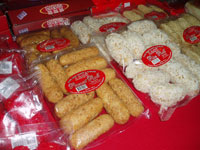 Red ampao, peanut roll, rice roll and
sesame roll.
Then, lunch followed. It was a buffet spread that was filled with Chinese gourmet specials. At the lobby was a table filled with several Chinese delicacies like Red Ampao, Peanut Roll, Rice Roll, Sesame Roll, and Special Tikoy – Buko Pandan, Ube, and Brown Sugar varieties.
By the way, Kung Hei Fat Choi means "Congratulations! May your business grow and prosper everyday in the New Year!"
QUOTE: There is some soul of goodness in things evil, Would men observingly distil it out. - - William Shakespeare's Henry V