PURR
UI-Phinma honors OFWs; lights Christmas tree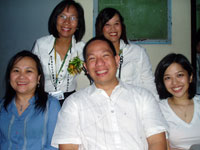 Standing: Heidi Foulc, directress of UI Basic Education Dept. and a BED teacher. Seated: Daisy Montinola, PEN chief finance manager; Dr. Chito Salazar, UI-PEN president; Esther Galvez, PEN Special Projects manager.
A hero is someone who makes certain sacrifices, one who offers himself in order to achieve a greater purpose.
Thus, it is apt to say that Overseas Filipino Workers (OFWs) are modern day heroes because they weather loneliness, hard work and sometimes, danger, in a far away country just so they could earn money and send it to their families in the Philippines.
There are 700 million OFWs around the globe and they remit P8-billion. The amount represents 10 percent of the country's gross domestic product (GDP), according to Department of Foreign Affairs Director Sara Salcedo. She added that this has kept the economy sturdy amid the global economic crisis. In this case, they are not only helping their biological families but the Filipino family as a whole.
She added that the Philippines is a big labor source for the whole world because Filipinos are known to be hospitable, caring and outstanding, among others.
Mayor Jed Mabilog urged everyone to continue praying for the OFWs; for them to be in good condition always so they could continue sending money to the country in order for Filipinos to survive.
To honor these unsung but very valuable heroes, the University of Iloilo-Phinma held a recognition activity for them. The school has students whose parents are OFWs. According to Heidi Foulc, directress of the Basic Education Department, despite their parents being away, these students study well in order to make their OFW father or mother happy because their hard work is paying off. "Thank you for the things that you willingly do for your family," Ms. Foulc said.
The recognition of the OFWs was the first part of the program. The second part was the lighting of the Christmas tree, which is located at the Basic Education Department of UI-Phinma. This Christmas tree along with some parols hung around the campus, will provide light for the university all throughout the season.