PURR
Early Christmas at Jollibee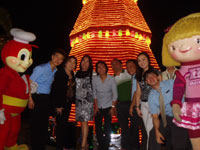 The Jollibee General Luna family with Jollibee and Hetty.
Christmas came early for the kids of Bantay Bata when Jollibee General Luna Branch held a Christmas Tree Lighting Party last December 3. It was the first time for Jollibee to have a giant Christmas tree in Iloilo City.
Councilor Lex Tupas lauded the Go Family, who holds the franchise to the Jollibee General Luna Branch, for sharing their blessings to the Bantay Bata kids. The occasion was so special that he decided to bring his wife Candice and newborn daughter Alexa. He told everyone that Christmas should not only happen during December but every day. "Know what you have and help those in need," he said.
While the guests were enjoying Jollibee's crispylicious and juicylicious Chickenjoy for dinner, the Sta. Maria Parish Choir belted out some Christmas songs.
When their stomachs have settled, the kids joined in the fun with Jollibee and Hetty. Jollibee had obviously learned some new dance steps over the years. (At one time in a different event, I saw him almost-breakdancing). When the kids had their full of the dancing, everybody wanted to have a photograph of the two mascots.
Then came the lighting of the giant Christmas tree. The spirit of Christmas was felt even more then. And more when the Go family started distributing gift packs to the kids.
That's the beauty of giving gifts. A person will feel loved and will learn to love and share to others in return.
The activity of sharing was supported by the Junior Chamber International (JCI) of Iloilo City.