The Dumajel-Yniego Nuptials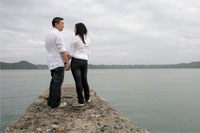 On December 18, 2010, Wences Yniego and Chowbar Ace Dumajel will be married before God and man at the St. Clement's Church.
The officiating priests are Rt. Rev Ma. Juanito Y. Tuvilla and Rev Fr. Boy Celiz.
The bride will wear a gown designed by Philip Neri Estocada. It is made of ivory-colored silk satin. It is beaded with rhinestones. Glass beads and cut beads form the bodice while detachable knitted cobwebs and silk sleeves cover the upper arm. Silver and ivory-colored floral embroidery accentuates the train.
During the reception, the gown converts into a princess-cut gown with rhinestones, cut beads, floral designs and ivory silk petals scattered all over. A Thai silk chiffon covers the shoulders.
The groom will wear a two-button gray cashmere suit. It was designed by Estocada, who also happens to be the event coordinator along with Iris Cordero.
The reception will be at Hotel del Rio. The invited guests will be entertained by a popular singer from Manila.
Wences and Chowbar Ace are nurses in the United States. They met at a birthday party there. He is from Dipolog City while she is from Cabatuan, Iloilo.
Their parents are Alberto (deceased) & Candelaria Yniego and Mesindo & Tessie Dumajel.