Dimples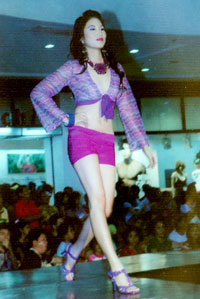 Runway Name: Dimples Custodio
Complete Name: Ann Rency Custodio
Age: 20 Years Old
School: University of the Philippines in the Visayas
Course: Communication and Media Studies Year IV
Greatest fashion achievement/experience:
Exclusive Model of fashion designer Mandy Salcedo at the age of 14
At the age of 16, she became Mandy Salcedo's Star Model during Salcedo's series of fashion shows in Robinsons Place Iloilo and SM City from 2006 up to the present.
Has joined a total of 16 fashion shows
Miss Teen-Philippines-Visayas 2006
Miss Disyembre sa Guimbal 2007
Miss Iloilo Festival Queen 2008
Miss Paraw-Regatta 2009
Personal Style/Fashion:
Tank tops, shortie-short or mini skirts, dool shoes or sneakers, tote bag, chunky accessories
Tank tops, cardigan or over blouse, mini skirts in suede or leatherette, gladiator hi-heeled shoes, mohair hand bag and chunky accessories
Clubs/Organization:
Mandy Salcedo Modeling Club, vice president
UPV Modus, president
UP Kaka, member
Partido sg Mainuswagon nga Bumulotho, member
UPV Indie Organization, member
Are you a model? Then this corner is for you. Send your photos and details (runway name, age, school, course, fashion achievements and experiences, personal style, other interests) to katvillalon@yahoo.com.