REAL LIFE
'Fake' Christmas Bags, anyone?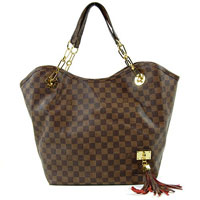 A Louis Vuitton replica.
"Wow, that's an LV," you rave over your officemate's new bag, but suddenly noticed how close to the edge of the flap the Louis Vuitton logo is. Then you know in your heart, it's not the original.
How do you know if the bag is fake? Poor workmanship. That's the first telltale sign.
China Made products are proliferating that even an iPad has now an iPed. A Blackberry now has a plastic "housing" and more "imitation" or "replica" brands are breeding in malls like 168, Greenhills, "tiangge" and bazaars, particularly during Christmas shopping season.
For most girls, wearing one of those coveted brands is eternal sunshine for their soul. Hence, fake stuff is a lure to their senses. Mind you, they ultimately believe as well that by giving fake branded presents will earn them "pogi" points. So they "beg, steal or borrow" to get where the fake brands are.
Here comes the Purse Party.
There is a growing curiosity in a social hullabaloo called "Purse Party". But be wary, it is casual much more like an afternoon tea party with upper-middle-class women in attendance. Here, they exchange banter over fake goods. Yes, you hear it right! Fake brands lining up in your face such as Chanel, Gucci, Hermes, Louis Vuitton, Fendi, Cartier, Christian Dior, Marc Jacobs, Balenciaga, Lanvin and Venetta, you name it they have it.
In the United States, such a party is now getting some attention, perhaps because of the bad economy. I politely declined a long ago invite in one of these parties because I stand by my "buy-only-the-original" principle. Since I don't have the "original" money to buy the luxury goods, I buy Filipino brands that can be at par in quality with these infamous names.
The dynamics of buying fake brands and using it may vary but in the end it is still a personal choice. According to studies, there are factors to be considered why people buy the imitation rather than the original. Here are the basic reasons:
The "original" price.
An original Berkin bag by Hermes, for example ranges from $9,000 to $150,000— more or less half a million each in our currency. Hollywood stars like Lindsay Lohan and Victoria Beckham are two patrons of these bags with more than two Berkins in possession. For an ordinary mortal like you and me, the only chances of owning an original Berkin is by winning the lottery or a donation from either Lohan or Beckham.
That is why price is the primary consideration for someone who buys the imitation. By buying fake brands in floor prices one thinks she's getting a great deal of money not knowing that a replica is something of inferior quality and a waste of money for something that will not last a long time.
It's in the Attitude.
Studies reveal that people with a high level of moral judgment are less likely to buy fakes for personal consumption or as a gift for another person. But people who wear fake items are more likely to behave unethically and participate in fraudulent behavior.
Status is society.
The desire to fit in a social class wealthier than their own or an impression of who they think they are to others through the products they use are reasons enough why some are trapped in buying fake brands. People who often do not have the financial means but aspire to belong in high society cluster will purchase a fake regardless of their ethical standing. They don't value the functionality of a product; instead they buy them to project the "image of status."
Despicable materialism.
The belief that wealth is the only way to achieve happiness at any cost, that material possession is more important than relationships. At times, it serves as a life goal for certain people because they view worldly possessions as a gauge of their wealth and social standing. They believe they are sending positive signals to the outside world when in fact they are sending negative signals to themselves.
The real deal.
I have to admit I go crazy over "ukay" or the second hand items imported from the US or Japan. But they are not imitation brands. I confess to buying counterfeit once in my life, eons ago when my naïve self succumb to the impression of Rolex watches on a trip to Hong Kong's night markets in Kowloon. No sooner were I was sporting it in my wrist when the hour hand suddenly stopped and would never budge even with the new "battery". Oh well, so much for the deal of a lifetime!
Today there are many wonderful and affordable Filipino fashion labels to choose from, thus resorting to fakes or depend on luxury labels alone to create a unique fashion style or statement this Christmas is plain and simple stupidity.
Filipino brands like Bench which apparently making waves overseas; Leonardo Bags, "Schizo" under SARI-SARI store, Tina Maristela-Ocampo's luxury evening bags called "Celestina Maynila", to name a few. The good news is, Rafe Totengco, a Filipino bag designer from the US has opened his store in Manila. The Rafe Store is located in Greenbelt, Makati. Something to be very proud of, his bags are currently sold in expensive boutiques and department stores in North America and in several Asian countries. Some of his regular Hollywood celebrity clients include Eva Longoria, Jessica Alba and Sandra Oh.
Fake is fake no matter how you describe it, and there are no other ways to undo it. If you can't afford the real thing, don't buy the lowly imitation as a substitute. If you think you may be able to fool some…but definitely, you cannot fool yourself.
* * *
Attention: Workshops@ibapa is offering seminar-workshops for senior college students in Western Visayas. Mentoring Tour '11 is on. Registration is free. Email me at dm.palisada@gmail.com