PURR
Bloggers Meet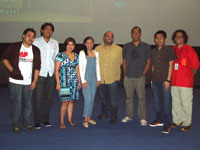 Flow Galindez, Laszlo Lim of Yehey.com, Ria Abella Jose, Aileen Apolo of Google Phils., Anton Sheker, Estan Cabigas, Tonyo Cruz and Enrico Dormido.
Bloggers from different parts of the Visayas gathered at the SM Cinema 6 recently for the First Visayas Blogging Summit. The event was spearheaded by the Iloilo Bloggers, Inc.
Veteran bloggers outside of Iloilo shared what they know about this new media. The program started with Aileen Apollo's lecture on "You Have a Blog. Now What?" She asked every blogger, "Why do you blog? What do you blog? How do you blog?" She also gave these reminders: "Be original. Plagiarism is bad. Be consistent. Find your voice. Drive traffic to your site; what's the use of blogging if nobody reads it. To encourage readership, start with the three F's – family, friends and fools. Be interactive. Visit other blogs and leave comments. Use more tools in your blog, like videos, podcast, photos, maps and social media. And lastly, the secret sauce in blogging is passion."
Mayor Jed Patrick Mabilog advised, "May your blogging help push the country to greater heights. May you use blogging to help the society, especially on peace and order. Inform the people about TBS 13, criminal elements that use teens to commit crimes because they know that minors cannot be jailed. These minors are being exploited. Use blogging to remind them (teens) that the government wants to give them a brighter future. Also remind visitors about our ordinances on jaywalking and loitering and urge them to enjoy our food and the Ilonggos' warm hospitality."
"Many people were made rich by using the social media. I hope that Iloilo will have this kind of millionaires," the mayor concluded.