A Time of Giving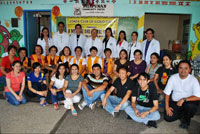 For two days, the residents of Tanza gathered at the Tilipunan Center to benefit from the medical and dental mission of the Zonta Iloilo City Club I.
Ten doctors from the Iloilo Mission Hospital and 10 dentists formed the team that attended to 150 adults and children. The beneficiaries availed of basic laboratory tests and free medicines. Snacks were given to them, too.
A demonstration on cooking squash was also given. The recipes were maja blanca, fish ball and kutchinta that are squash-based. The women were encouraged to make and sell these items in order to gain extra income.
The activity is a yearly project of Zonta I and it's regularly held at the Tilipunan Center. The Tilipunan Center has turned 30 years this December. It serves as a center for learning for kids and venue for adults to learn of livelihood opportunities.
The medical mission was coordinated by Teresita Apistar, Bessie Rebadulla and Ann Rico Cheng. The demonstration was headed by Aileen Capalla, Milette Larraga, Veronica Segovia and Bessie Rebadulla. Zonta I's president is Myrna Rico Lopez. *