A Taste of Home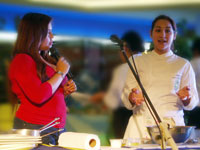 Chef China and GMA Iloilo's Kate.
China Cojuangco, the sister of Mikey Cojuangco became famous not only because of her family's popularity but also due to her prowess in sports. She became an athlete for the national team for indoor soccer. She also had a stint in theater and film directing. However, she realized later on that theater and film are not for her. She noted that she is not comfortable with "snooty" people in the industry. "Baklang-bakla ako eh. I'm just too nice," she said.
So, four years later, China studied culinary arts and is now a full-pledged chef.
These are revelations from China when she held a cooking demonstration entitled "A Taste of Home" in SM City Iloilo last week.
China presented three recipes – Pork Binagoongan, Prawn and Fruits and Italian Seafood Salad.
The guests had a free taste of China's recipes. Prior to that, they also learned a lot from her such as:
* To test if the cooking oil is ready for frying, instead of sprinkling water on it (which is not safe), put a wooden chopstick or spoon. Bubbles will form if the oil is already hot enough.
* In doing the batter, use one hand for the wet ingredient and the other hand to roll the said ingredient on the batter.
* Seafood cooks fast. So, if your prawn is already pinkish in color, it's okay to eat it.
* To ensure crispiness, drain the oil and air dry the fried food. Do not leave it inside the cooking container. Let it out.
* Bread goes stale fast if you don't refrigerate it and even faster when you do. Bread will last a week or more if you put it in the freezer.
* While blanching, clams that do not open should not be cooked or eaten anymore
* Try to experiment. Try different dishes. Watch television shows on cooking.
Lastly, she and Chef Gino Gonzalez are already going steady for four years now. Chef Gino and his father Chef Gene Gonzalez were the ones who created Emilion's food offerings.
"A Taste of Home" was one of the offerings of SM City Iloilo during its Culinary Festival 2010. China was assisted by HRM students under Chef Ramlo Villaluna, whom SM City Iloilo tapped to organize the successful event.