USA Elementary Class 1974 Holds Reunion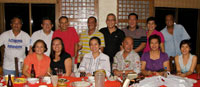 Fifteen classmates reunited after 36 years.
It all started with a simple question by US-based retired navy man Andrew Villanueva in the social media FaceBook "Aren't you my elementary classmate before?" to a dozen members. This triggered an exciting discovery and journey down to memory lane.
After 36 years, Andrew Villanueva who currently work in the US Postal Office in California together with his charming wife from Cebu, the former Bunny Veloso, came to visit Iloilo once more and feted his elementary classmates, University of San Agustin Elementary School, Class 1973-74, with a sumptuous dinner cum reunion party at a seaside resort. The party drew a lot of shrieks, laughter, reminiscing, bonding and certainly lots and lots of picture taking!
To all my classmates, cheers to a meaningful friendship and may we have more reunions to come. To Andrew V., thanks for gathering your classmates to a night over the moon!